This is the heartwarming moment a three-year-old star of Call the Midwife who lost all her limbs to meningitis took her first steps with a walker.
Little Harmonie-Rose Allen, who played a Thalidomide victim in the BBC drama, was struck down with a deadly strain of meningococcal septicaemia aged ten months.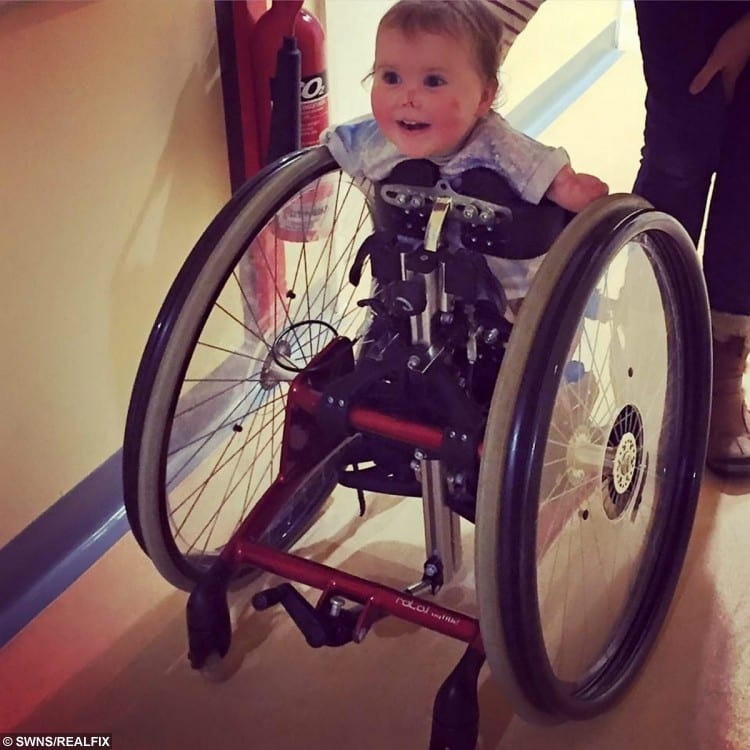 She was rushed to hospital where doctors told parents Freya Hall, 22, and Ross Allen, 24,she had just a ten per cent chance of survival.
Miraculously, brave Harmonie-Rose defied the odds and beat the killer bug – but lost her arms, legs and the tip of the nose in the process.
The curly-haired tot has since started nursery, learned to draw with a pencil and taken her first supported steps with the support of someone else.
She recently made her TV debut in the sixth series of hit show Call the Midwife, in an episode watched by 9.2 million viewers.
Incredible footage shows the determined youngster taking her first steps in a physio session using a special walker, without help from mum or dad.
Little Harmonie-Rose wiggles her hips and puts one foot in front of the other as the frame – which fits around her chest and tummy – helps her balance.

Proud mum Freya, of Bath, Somerset, shared a clip of the achievement – which follows two years of daily physio sessions – on Facebook.
She wrote: "She sure knows how to make a sad day a lot better. Today she had her first booster session with physio and she started to take steps with a walker.
"I cannot express how proud I am of her!"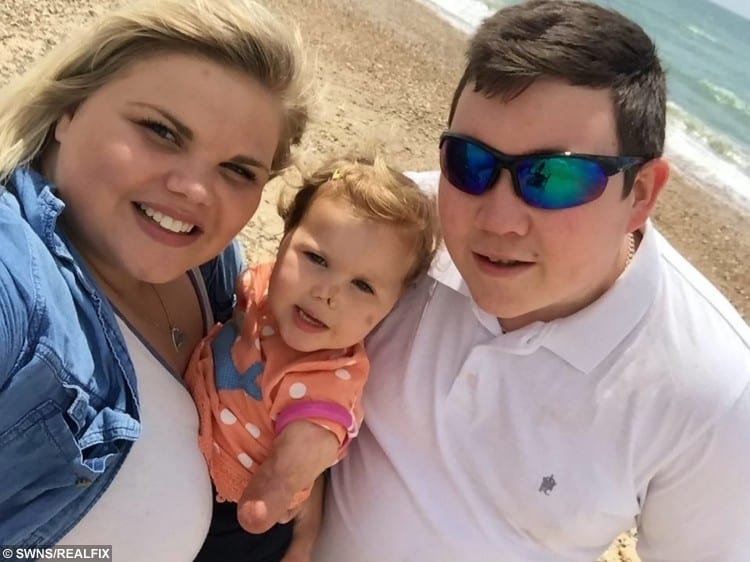 Freya added that her little girl is "doing really well at the moment" and said: "She's just into everything. She can climb up the stairs and get back down.
"She has adapted to everything really well. She just really wants to be independent."
Not only has the determined tot started taking her first steps – she has also done this while recovering from a broken collarbone.
At Christmas the toddler broke the left side of her collarbone in a fall and last weekend broke the right side after taking another tumble.
Despite this, Harmonie-Rose tackles physio every day and has made progress with her walker.
Her exercises involve a lot of stretching so that her body can straighten out again.
Freya said: "Her body is still quite flexed from where she was shuffling on her bottom. When she stands she's a little bit bent.
"She finds a way to do everything – she's just amazing," she added.
"She thinks she is invincible. She always finds her own way of doing things."
Harmonie-Rose is now signed up to a performing arts agency and attends a nursery in Bath and is "loving it", Freya said.
She added: "All the other kids in nursery love her. She plays with all of them,
"They did ask her where her arms are at the start but now they just take it as it goes."
Harmonie-Rose played a young Thalidomide victim in the penultimate episode of the sixth season of Call the Midwife, which aired on March 5.
The drug was given to pregnant mums to stop sickness but was later found to harm the development of unborn babies and cause serious defects.
The heart-rending Call the Midwife storyline was introduced in season five with the birth of Susan Mullucks, played by Ezmai Rhodes-Horne, two.
Thalidomide was re-visited in episodes seven and eight of season six.
Filming for season seven starts in May and there's a possibility Harmonie-Rose, who clearly enjoyed her time in the spotlight, will feature again.